Costa Brava Living
>>

Walks and other things
Fire on the Costa Brava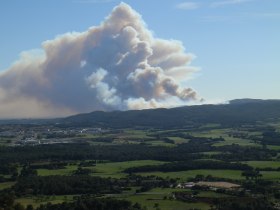 A big plume of smoke rising out of the Gavarres at about 2.30pm yesterday put our walking plans on hold as a huge forest fire had started in Vall.llobrega which is about 2-3km from us. Forest fires are relatively common around the Emporda area but still quite devastating when they happen and one reason for being very careful not to start fires in the woods. For March to October, fires are banned from wooded areas or their vicinity because of the risk of a large scale incident and ironically yesterday was the second day of this year's no-fire season.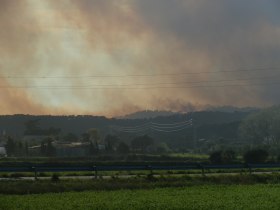 The second major factor in the bigger fires is the northerly Tramuntana. wind. This is usually a very strong and very dry wind that blows from the north and yesterday's coincided with a very dry hot day with temperatures reaching 27C in March. The wind whips across the woods and helps the flames to spread. Thankfully we were just to the north of the starting point for the fire, so the smoke and flames were heading away from us an area that we frequently use for walking and exploring.
We did sneak a trip down towards Palamos and could see both the smoke and flames in the trees just above Vall.llobrega which, from where we were sitting, looked dramatically close. However, though around 400 people were evacuated, reports suggest the fire didn't reach houses. The fire though subsided in the evening, though there are still fire crews around and reports that it is not yet completely extinguished.
We postponed our planned walk and instead went to Quermany - the hill behind Regencos on what was a fabulously clear day (the views from Quermany across Pals and Peratallada to Canigou in the Pyrenees are spectacular) and watched the fire and helicopters and planes from the safe distance.