Costa Brava Living
>>

Walks and other things
Fish hooks
Hectic weekends going hither and dither with children means we've slowed our rate of new walks considerably, returning to old favourites close to home. And so we are in November with temperatures up and over 20C during the day and headed to Platja de Fonollera (Pals Beach) with Zina, our dog heading to Gola de Ter.
Out of season, this is a lovely open beach scattered with driftwood and mounds of white sea-washed sticks and tree-trunks. The Gola de Ter where the river meets the sea forms a vast lake with views across the reeds to Montgri, and open water across the sea to the Isles Medes in the sun. The fresh water is great for Zina to swim and chase sticks in the water.
This weekend though it didn't turn out so well. Walking along the beach Zina found something to eat washed up high above the waterline. We didn't pay too much attention as she often finds something washed up and is either sniffing and occasionally finds a fish washed up.
It wasn't until after she came out of the water at the Ter that we noticed a line of fine thread dangling from her jaw, glinting in the sunlight. At first it looked like a long hair possibly that had been floating on the water. No. Unfortunately whatever it was that she'd eaten further up the beach had been attached to a line and an hook. We pulled once to see if the line would dislodge, something we probably shouldn't have done, but it was stuck fast and she coughed up a little blood.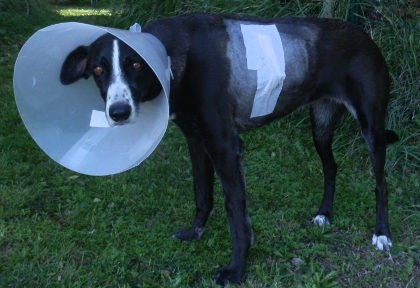 So straight to the vets (there's an animal hospital next to the bus station in Palafrugell). Overnight the vet operated to remove the hook which was caught in her oesophagus, leaving us with a vet's bill of about €800 and a confused and uncomprehending dog with a big shaved patch, a scar on her side and a catheter on her leg who needed several x-rays and several days of observation. We can't say whether the line and hook had been discarded by a careless fisherman, or had washed up from a boat offshore, but a big lesson to be careful with dogs on the beach.