Costa Brava Living
>>

Walks and other things
Lake at Sils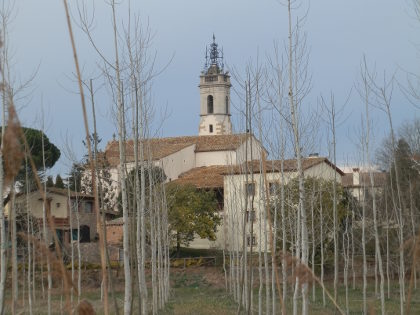 If you take the train from Barcelona to Girona, one of the towns you'll pass through is Sils which looks from the train window to be an unprepossessing place of new houses and villa estates of the type that are scattered just south of Girona at the far end of Barcelona's Rodalies train network. There are isolated housing estates dotted all the way up from Maçanet, across to Lloret and up to Vidreres and Caldes de Malavella, some visible from the train or motorway and others much more hidden away.
We discovered by chance that Sils has a lake (Estany) driving through on an explore so took the chance to call in. This was the end of January so we're a little behind on adding to the blog this year for a variety of reasons.
The lake as it is described on the maps is more accurately described as an area of wetlands with much of the water filled with reeds and, in a number of places around the lake hides for bird watchers.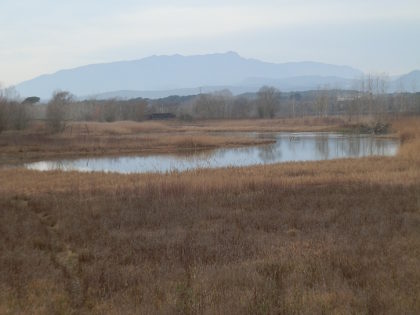 Access is easy - with parking at the railway station. The older parts of the town are relatively small with a church and a collection of older buildings, before spreading out into newer areas beyond. The lake is well signposted with an easy broad path around it, though the reeds keep open water, and so birds, a little into the distance.
Like many flat wet, or previously wet areas, the lake is lined by regimented rows of trees in plantations. In spring when the leaves come this would be very pretty, but in winter colours the trees were bare and the plant life in winter dormancy.
The path around the lake seemed popular with people in the area. In all, if you are nearby its a good place to walk, but probably not one that you'd travel miles to do.
Nearby: Palafolls castle- Hostalric stroll - Castell de Montsoriu - Santa Coloma de Farners - Brunyola - Arbucies autumn walk - Visit to Roda de Ter and Espinelves - Caldes de Malavella - Cassa de la Selva - Volca de la Crosa - Sant Dalmai (Girona Airport)