Costa Brava Living
>>

Walks and other things
Parlava, Rupia and La Sala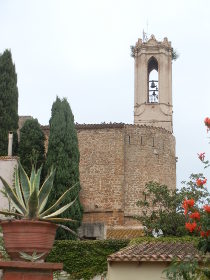 Parlava is a small village on the main route between La Bisbal d'Emporda and Figueres prior to crossing the river Ter at Verges. As such it's a village that many people will pass through on their way to somewhere else. This is really a walk of three churches and the September day had a strong autumn mist, so it was not a good day for photographs.
It would be fair to say that Parlava is not a particularly noteworthy village. It has a church and a handful of old streets but nothing that really catches the eye. The walk though is relatively flat and links with Rupia and La Sala - an area we've walked before (Rupia and Foixa) coming at Rupia, which is more interesting, from a different direction.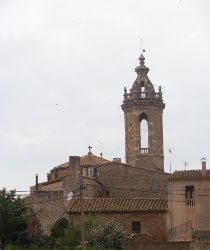 After visiting the village centre we follow the bike route out in the direction of Casavells which leads out into the fields. At this time of year, fields are being ploughed and the landscape is a mixture of earthy browns and khaki greens. As we're walking there are views to Castell d'Emporda but otherwise it is a simple flat walk.
At the first proper turning right we follow the track towards a pig farm - there are no signposts but it is obvious that it is going towards Rupia in the distance where we can see the church. The track turns into a lane by the farm and we simply follow it to the stream at the entrance to Rupia. There are children playing with sticks in the water and a small playground.
A quick visit of Rupia and we head out across the main road (which links Flaca to Torroella de Montgri). This is part of our early walk so we know we will find the strangely isolated church at La Sala along the road.
At the crossroads, we turn up past the La Sala church and can see that it seems to be linked or connected to a farm. There are a number of old and new farmhouses in the area some of which look quite luxurious. After the church we need to walk on the road, turning right up the hill to link back to Parlava. For a quiet back road there are more cars than we would expect, but this could just be the time of day.
And so back to Parlava along the main road - a walk of three churches, but not too much else.
See also: Verges, Tallada d'Emporda and Maranya - Colomers and Jafre - Vilopriu and Valldavia - Serra de Daro, Fonolleres, Sant Iscle d'Emporda - La Pera, Pubol and around - Parlava, Rupia and La Sala