Costa Brava Living
>>

Walks and other things
Dia de Sant Jordi in Palafrugell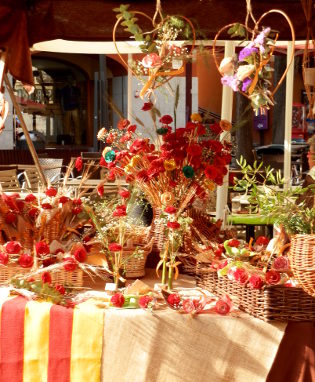 Sant Jordi (Saint George's day) on the 23rd April is probably my favourite Catalan festival. Unlike England, which shares the same day, a Catalonian Dia de Sant Jordi is a celebration of love and literature.
The tradition is that a man gives his partner a rose, and she gives him a book. In practice everyone gives each other books and roses. The book part is relatively new - only started in 1929, but comes about because the 23rd April commemorates Shakespeare's and Cervantes birth day and, now for locals, the death of probably the most famous modern Catalan writer Josep Pla (of Palafrugell...). In 1996 23rd April became the first international book day.
The combination of literature, roses and romance is delightful. Sellers put stalls out on the streets decorated with the yellow and red of the Catalan flag and it seems to be a day that everyone is smiling. Much better than the sickly sweet Valentines day with it's excess of chocolate and bad taste.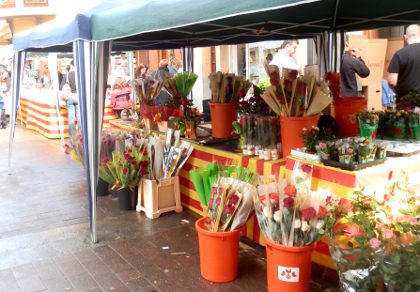 The other famous Catalan festival (besides the commemoration of the Diada in September) is the Nit de Sant Joan - a hugely noisy festival of fireworks and bangers for the midsummer's night (23rd-24th June). I'm afraid I always found this too noisy and wild, particularly in Barcelona where the bangs continue all night,
Palafrugell itself, is the central town for the municipality that includes the coastal towns of Calella de Palafrugell, Llafranc and Tamariu. While the coastal villages are tourist heaven, Palafrugell itself is a working town, once the largest cork producer in the world and the active centre for locals from many of the villages including Pals and Begur to the north. It has character without being pretty in itself and a huge Sunday market that stretches through half the streets of the town to the north. It can feel strangely quite dead during lunchtime for the long mid-day break, but very busy in the evening with bars and occasionally music and sardanes in the evenings. Visitors will probably see the supermarkets on the road that runs around to beach-side villages, but it's worth visiting to get a taste of real Catalan life, though the one way system can be a little confusing for newcomers trying to find the centre.
Gardens of Cap Roig - Palafrugell - Begur - Festa d'Indians - Mont-ras to Calella de Palafrugell and Llafranc - Palafrugell, Tamariu, Begur residential and Esclanya