Costa Brava Living
>>

Walks and other things
Sant Pere de Rodes
Sant Pere de Rodes is one of the emblematic elements of the Costa Brava. Set high in the hills of the Cap de Creus above Port de la Selva (about 500m), this ancient monastery has a bewitching charm with commanding views over the countryside and coast below.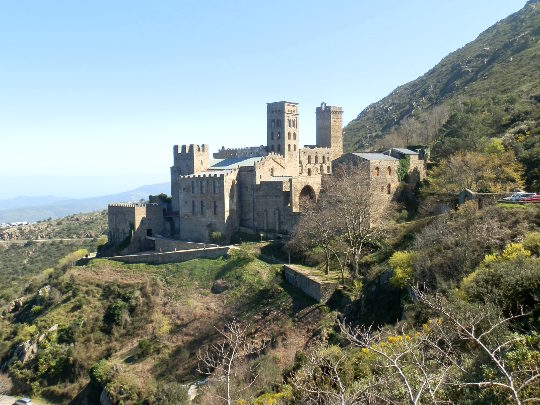 Sant Pere de Rodes can be reached from either Port de la Selva or from Vilajuiga on the Roses side. We drove up from Port de la Selva - the narrow road climbs quickly with hairpins and is relatively open to the hillside falling away beneath you so the drive is relatively dramatic taking about 8km to climb in to the hills of Cap de Creus with grand vistas over the sea behind you.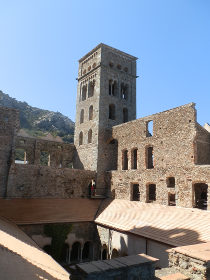 We were visiting at Easter weekend, so there were lots of cars and visitors around and we parked in parking about a kilometre away from the monastery. The main building is not the only element of the 'conjunct' - there is a small chapel (Santa Helena de Rodes) and abandoned medieval village at Santa Creu de Rodes, plus a separate ruined castle of Verdera above the monastery.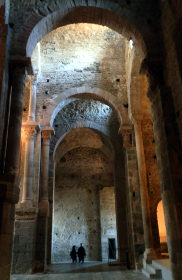 The monastery itself was abandoned in the 18th/19th century, but has been maintained as a historic monument since the 1930s with many elements that have been restored. The site charges for entry (€4 for an adult in 2016) but even if you don't go inside there is enough scenery and interest to make for a worthwhile day trip.
We did go in, and the light through the old windows into the stone nave and cloisters is almost haunting at times with tall arched ceilings. A good visit can be done in a hour, and there is a restaurant with views over the bay of La Selva below.
After the monastery we split into two groups. One went up to the castle of Verdera above, and then along the top with views across to the Gulf of Roses, while the other group went back along the road and took in the sunshine and views from Santa Helena de Rodes
We took the road down to Vilajuiga which wasn't quite as hairpinny as the way up and possibly would be easier access from Figueres.
Neighbouring walks
Roses and Roses Ciutadella - Llança - Cadaques and Port Lligat - Port de la Selva - Cadaques to Roses - Espolla to Rabos - La Jonquera to Fort de Bellegarde (France) - Peralada - Castell de Requesens