Costa Brava Living
>>

Walks and other things
Pals beach to Gola de Ter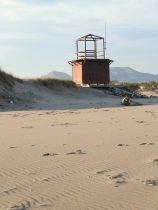 Platja de Pals is a huge long beach that stretches for several kilometres from the main holiday urbanisation past Masos de Pals and all the way up to L'Estartit and the Isles Medes in the north. From the southern part of the beach you can reach the hidden Platja del Roca beach and round to Sa Riera which is technically part of Begur.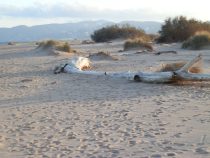 The beach itself is the basin for the outflow of the river Ter. Away from the two ends it's quite flat and in the Middle Ages when sea levels were higher much of this area is marked as being a large sea lake. Now the same flat fields and wide availability of water means it is a prime rice growing area full of rice paddies. Until the mid 2000s, the beach itself was the location of a number of very large radio masts used for broadcasting propaganda into Russia. These have been dismantled giving much of the beach a wild natural feeling.
We walked this in winter which is the best time of the year for beach combing. Drift wood washes up on the sand and the wind half buries it leaving spooky white branches reaching out of the sand. Along the edge of the beach are dunes and sand grasses and people are far and few between.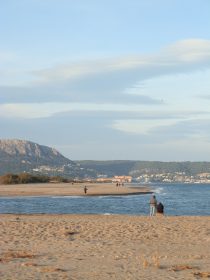 There are really two options for the walk. You can start at the bottom by the main Platja de Pals restaurants (usually shut up in winter), and then have an extra long walk, or you can short-circuit it and start higher up the beach by the Green Dolphin Campsite (Delfin Verde). Since this is pretty much an up and back type of walk we tend to start at the Delfin Verde.
The walk is easy. Head north towards L'Estarit. The sand isn't too soft to walk on and our dog just loves the freedom of running on the sand (ok in winter, not ok in summer). If it's windy you might find kite surfers on the sea. On a clear day the Isles Medes and Torroella de Montgri will be clear to see. Eventually you reach the Gola de Ter - the mouth of the river Ter as it cuts across the beach to reach the sea. Behind the mouth a huge fresh water lake builds up in winter often with reeds and birds.
Unfortunately you can't cross the Gola without getting wet. In summer when the river is lower you can swim across - it's only a few metres wide. In winter it's too cold and that bit wider.
Of course another option is to start at L'Estartit - that would be another walk though.
Neighbouring walks: Masos de Pals, Begur, Sa Riera and Platja de Pals - Torroella de Montgri castle - Torroella de Montgri to Gola de Ter - L'Estartit to Cala Pedrosa and Cala Ferriol - Sa Tuna, Cap de Begur, Begur
Swimming: Swimming at Gola del Ter (Pals/L'Estartit) or L'Estartit
Swimming at Platja de Pals and Platja Illa Roja