Costa Brava Living
>>

Walks and other things
St Pol de Bisbal and Santa Lucia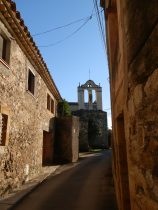 On the walk around and through La Bisbal I had the aim of reaching the hamlet of St Pol but not having a map with me I didn't quite reach the village. So a few days later we went back to find St Pol and walk in the woods to Santa Lucia del Bosque.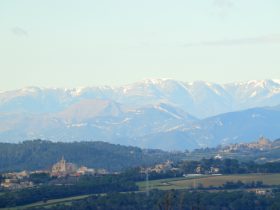 St Pol is a small hamlet (about 10 houses) with a small church just outside La Bisbal in the direction of the Gavarres and Calonge. The main street is quite narrown, but there is parking just next to the church. The village itself appears on old maps, though now it is relatively isolated with one drivable road in and out, and it is connected to the GR92 coastal path network which is also usually a good sign.
From the church we followed the road out of the village and up into the woods. At a T junction we followed the road to the left (not the GR92 route) towards Santa Lucia del Bosque. This is actually a drivable track and provides access into the masias in the hills. The path is pleasant with views over Cruilles and to the Pyrenees in the distance, though it is largely a typical wood trial. About three quarters of the way along, an signpost indicates a split - a small walking track to the right or the main road. We followed the track down into the valley and then out up the other side through the woods. At the other side another sign points to the Font de Santa Lucia - a small fountain with drinking water, then it's a rough climb following the path up to the chapel of Santa Lucia at the top.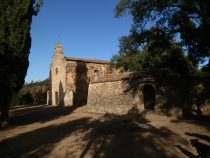 Again, avoiding the GR92 we followed the main drivable track past the chapel and back down into the valley then up the other side to the large masia that stands over the valley. Climbing up and then past the masia, we took the next lefthand path around to the next valley (note there is a signpost 50m ahead of you for a different path - we didn't take or reach the signposted path).
The track curves around the valley head giving views across the plain, then turns to the left and along back out to the St Pol village.
Neighbouring walks: La Bisbal, Vulpellac, Castell d'Emporda, Fonteta - Cruilles, Monells and Sant Sadurni de l'Heura - Madremanya, Els Angels, Sant Marti Vell